UNDERFLOOR HEATING & TILING IN SHEFFIELD
Raven Tiling work hand in hand with Raven Plumbing, who are experts in the installation of underfloor heating systems.
There are 2 types of underfloor heating system which can be installed; the first type is an electric system that is connected to the mains electricity supply to provide the heating, and the other is a wet system (or hydronic system), which circulates water from a boiler or another source of renewable heating system.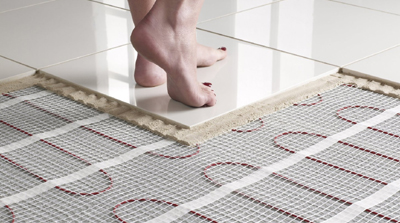 Once the heating system has been installed (either by Raven Plumbing or another company), Raven Tiling will commence with the installation of the floor tiles, ensuring that specialist screed and adhesive is used, to work with the movement of the floor due to thermal expansion and contraction.
Underfloor heating ensures the chill factor of the tiles is removed, whilst controlling the heating with a thermostat means your home is nice and warm when you want, and you don't need the heating turned on when you are not at home.