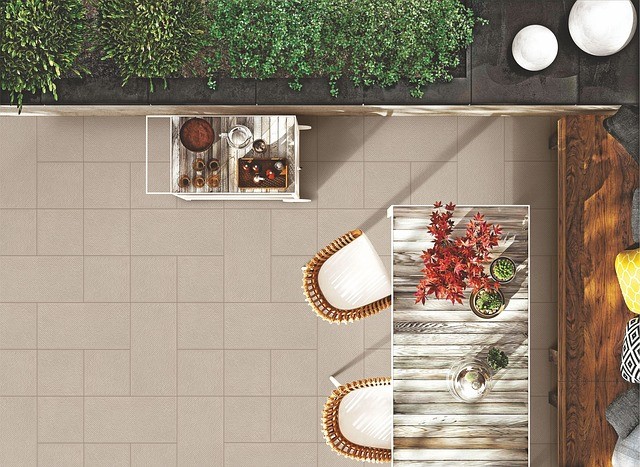 How To Add Tile To Your Garden?
Are you looking for a way to freshen up your garden? Maybe you want to make a lovely sitting area? Or you are just sick of having muddy shoes all the time. Whatever the case may be, the ideal solution is to add tile to your garden. You probably know that porcelain or stone tiles can provide the perfect base for your outside areas. Not only are they easy to maintain and look great, but they are also more likely to stand the extreme temperatures we experience in the United Kingdom.
Zoning for larger gardens
If you have a larger garden, consider zoning certain areas for specific activities. You can look into the upcoming wall and floor tiling trends to get inspiration. For example, you can make an area for dining with a table and chairs. Or you can use a sunny afternoon spot to put a garden bench and loungers. You can make a barbeque corner on the spot in the shade. When you add tiles to your garden, you create separate zones around your garden with different purposes.
Tiles are amazing because of the colors, sizes and finishes they are available in. They allow you to create a unique and personalized look. So, unleash your imagination! For example, you can use similar tiles in certain spaces or complementary colors for each zone. Depending on your needs and plans, you can use your garden for whatever you want and add some creative landscaping for the perfect finishing touch.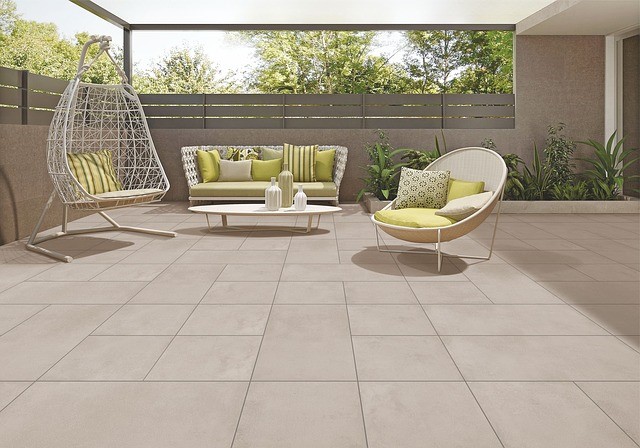 Step-by-step guide for tile installation
Tile installation is generally better left to professional tiling installers. But if you want to do it yourself, here are the steps you should follow:
Properly clean and clear the surface.
Remove all remnants of oil, paint, mud and dust.
Prepare thinset and mix it thoroughly according to the manufacturer's directions.
Spread it using a trowel onto a small surface.
Then, place tiles and add spacers.
Now gently press each tile into thinset. Make sure you use spacers designated for the tile selected. This way, all grout joints will be of equal width.
Repeat these steps until you cover the entire area.
Let the surface dry for 24 hours.
After that, mix grout in a bucket using the manufacturer's directions and spread it onto tiles.
Use a grout float to spread grout equally and continue spreading until every joint is full to the top.
Let it dry for 24 hours.
Wipe down tiles with warm water using a sponge to remove all grout haze from the ceramic surface.
After 72 hours, you can add grout sealer.
Wait three hours for sealer application to dry, and then repeat three more times.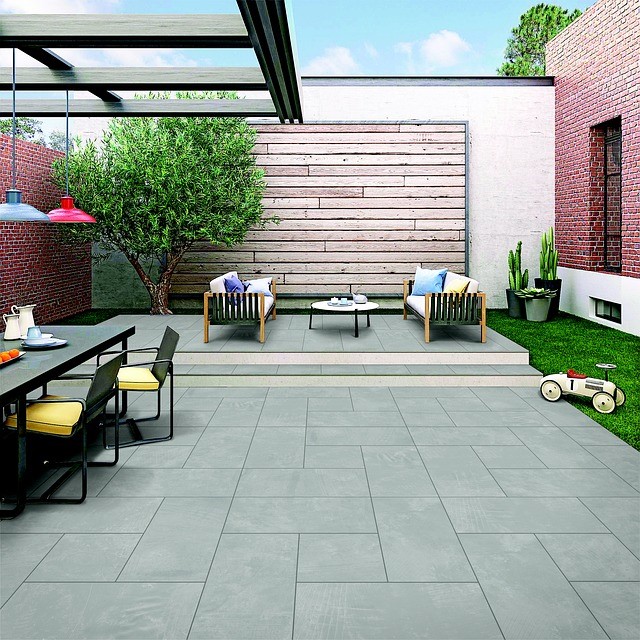 Do it inside out
Maybe you have seen some people using the same tiles both inside and outside the home. So, if you want them to match, you can find inspiration in your domestic tiles. Furthermore, using the same flooring from any inside space that leads to the outside is a great way to pull these areas together and make the entire space appear larger. For example, a conservatory is a great spot for adding tiles and then extending them to an outside patio. Maybe you have a kitchen-diner that opens out to the garden? Consider using a stone or porcelain tile to unify both areas. This way, when you open the door, the outside area joins with the inside for a stylish finish.
Less trouble, more tiles
If you are not a fan of gardening, then a fully tiled garden is another great option for achieving a contemporary look. Again, you can zone certain areas or create pathways with contrasting tiles in different shapes or styles and colors. You can also add some integrated seating to your design along with things like water features and solar lighting. You can dress the areas with creative planters which will require much less maintenance than a lawn. Additionally, you can include hardy plants or trees to add height and organic texture to space.
Remember, not all tiles are the same. You can't use just any tile outdoors as you would inside. Some tiles will tear and wear out more as facing the cold, rain, sleet, scorching sun, mud and damp. By using tiles that are made for the outdoors you will avoid damage and won't have to replace them for a longer time.
Pretty little stepping stones
If you want to follow trends when remodeling, colourful stepping stones are a great idea for your garden. And the most popular trend these days is making mosaic stepping stones! Before you start this project, you'll need to break up plates or tiles to get little pieces. Make sure you do this very carefully. Place tiles or plates in a sturdy shallow box. Then, put on some safety glasses and crack them using a hammer or tile pincers. For variety and aesthetics, you can also use pebbles, shells, jewels, colored glass, or marbles for this project.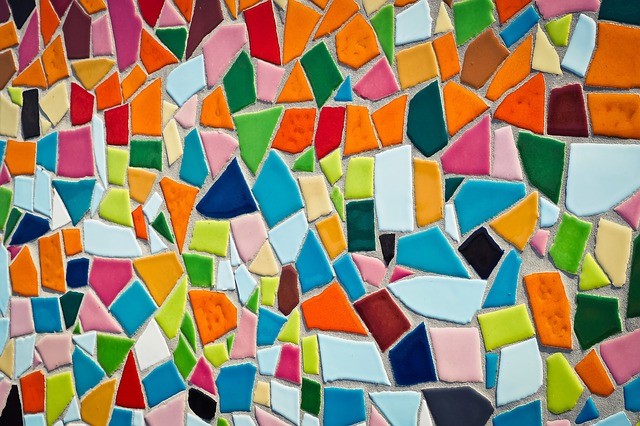 Moving and remodeling
Are you planning to move in the future? Well, that doesn't mean you shouldn't go on with this project, on the contrary. First, you can start looking at moving services at orangemover.com and get some crazy discount for an early booking. Second, if you add tile to your garden, that won't just make your time spent there more pleasant, but it will also increase the value of your home. So, you shouldn't hesitate just because you won't stay at your current house forever. The more effort you put into improving your home, the higher offer you will get for it when the time to sell it comes.
Hopefully, you have learned something new on how to add tile to your garden. We wish you luck and hope you make a beautiful garden you will enjoy!